Bath Buddy
Introducing our bath buddy brush, the ultimate grooming tool for your furry friend! These gloves are made of soft, high-quality silicone that is gentle on your dog's skin and fur, while providing a relaxing massage during bath time.
The gloves feature a built-in shampoo box, allowing you to easily apply and distribute shampoo while massaging your dog's coat. Our comb help to remove dirt and loose hair, leaving your pet with a clean and healthy coat.
Why get yours:
Gentle and Relaxing Massage: The soft silicone material of the gloves provides a gentle and relaxing massage for your dog during bath time. This can help to reduce stress and anxiety in your pet, making bath time a more enjoyable experience.
Improved Coat Health: The silicone comb teeth on the gloves help to remove dirt and loose hair, improving the health and appearance of your dog's coat. Regular grooming can also help to prevent matting and tangling of the fur.
Convenient Shampoo Application: The built-in shampoo box on the gloves allows for easy application and distribution of shampoo, making bath time more efficient and less messy.
Safe and Secure: The adjustable strap on the gloves ensures a secure and comfortable fit for all hand sizes, while the soft silicone material is safe for use on your pet's skin and fur.
Easy to Clean and Reuse: The gloves are easy to clean and can be reused again and again, making them a cost-effective and environmentally friendly grooming solution.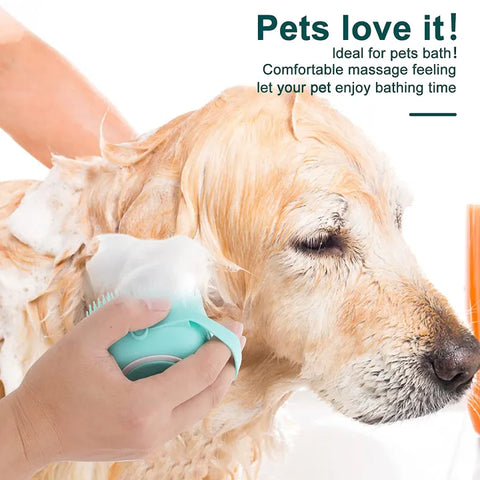 If you're looking for a hassle-free way to groom your dog, then our Bath Buddy Brush are the perfect solution. Order now and give your furry friend the spa treatment they deserve! Get yours now!